I wanted a gigantic soft box that was cheap :D -- my exact setup in AUD$, with the weird Amazon names:
Light sources
$13.99 - umbrella - "Neewer Professional 33"/84cm White Translucent Reflector Umbrella for Photography Studio Light Flash"
$ 86.99 - keylight - Neewer Dimmable Bi-Color LED with U Bracket Professional Video Light for Studio, YouTube Outdoor Video Photography Lighting Kit, Durable Metal Frame
And stuff to hold the umbrella and key lights:
$22.99 - Neewer Professional Universal E Type Camera Flash Speedlite Mount Swivel Light Stand Bracket Umbrella Shoe Holder Fits Canon Nikon Pentax Olympus Niss
$32.99 - Neewer Heavy Duty Light Stand, 3-6.5 feet/92-200 Centimeters Adjustable Photographic Stand Sturdy Tripod for Reflectors, Softboxes, Lights, Umbrellas
I also bought batteries but technically not needed (and I wouldn't bother unless you're planning on mobilising your key light to different places).
Color light
In fact the one thing I bought that was expensive was the color light (Aputure MC Aputure Amaran AL-MC RGB Led Video Light TLCI/CRI 96+ RGB 0-360 Full Color 3200-6500K Adjustable 0-100% Stepless Dimming CCT/HSI/FX Mode Bu at $169.99), but totally unnecessary for anyone that just has an interesting looking workspace (as opposed to my bland white walls).
As a test whilst filming yesterday, attached is just the umbrella/keylight with my aputure color light and no other external lighting. It's pretty bright!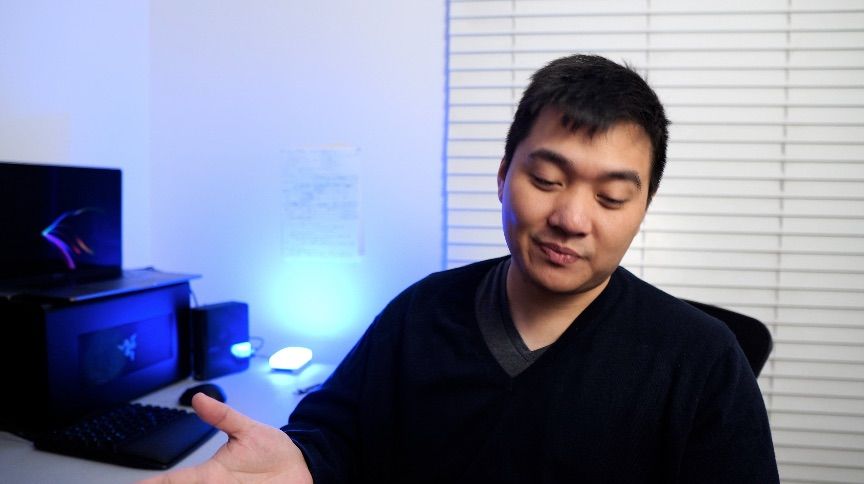 The actual most important thing is the positioning of the light, as apart from a big soft box it's that which helps to really adjust diffusion/shadow sharpness.